WE OFFER THE BEST WAY TO GET
STARTED,
WITH YOUR CAREER
IN A TARGETED MANNER!
The start into professional life is the springboard for the future. However, finding a suitable apprenticeship place is not always easy. Trade is a versatile and varied industry – just like the apprenticeship in our company! An apprenticeship in the Brueder Schlau Group stands for professionally coordinated content, exciting challenges, a strong team and diverse development opportunities.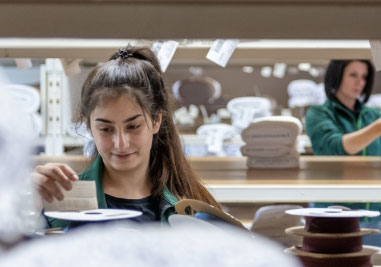 More than 6,000 of our employees are competent professionals from different professions, many of whom have stayed with us since the beginning of their apprenticeship. There is good reason why we provide our trainees with basic knowledge that goes well beyond the training standards. According to the examination board of the Chamber of Industry and Commerce, they are even among the best in their industry branch. This makes them highly desirable professionals with enormous opportunities for advancement – even in their own companies.
EXCELLENT AND AWARDED TRAINING COMPANY
The Brueder Schlau Group can claim to be the BEST PLACE TO LEARN®. This seal of quality was developed by AUBI-plus GmbH and is a guarantee for above-average in-company training. It is awarded to companies that demonstrate quality criteria in the course of a comprehensive survey to provide excellent training for young people. This recognition is the reward for the continuous work of the personnel training team to create the best conditions for good training in the Corporate Group.
According to the BEST PLACE TO LEARN® quality model, good training companies are characterised, for example, by having professional recruiting and qualified trainers/training officers who structure vocational learning according to key learning principles.