We invite you to become part of our fifth-generation family business, to make your personal contribution to our corporate goals and to help us create living spaces for millions of people.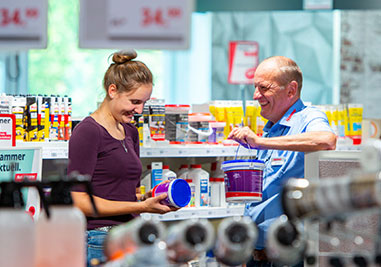 Satisfied customers are the secret of our success. More than 6,000 motivated and highly trained employees ensure the achievement of this goal day after day. With more than 200 specialist stores and more than 60 trade and craft markets, the Brueder Schlau Group is one of the leading wholesalers and retailers in the interior design sector nationwide.
Convince yourself of the diverse career opportunities in the Brueder Schlau Group and experience the exciting and varied working environment! Our employees are the essential part of our success. That's why we want to give something back to them and offer various additional attractive benefits.
You can plan your future with us for the long term: we offer you all the security of a growing and successful family business with a century of tradition.
Our management philosophy is based on recognition of performance, motivation and ethical behaviour in all areas of the company. There is a relaxed, collegial and down-to-earth working atmosphere awaiting you in our company.
We are always looking for employees who appreciate the qualities of being a family business.